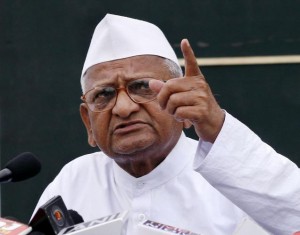 Seems like, the favorite Gandhian Anna Hazare, has now turned out to be a villain for millions of Indian citizens after his latest remarks on Alcohol.
Anna Hazare, a veteran social activist, lead a strong fight with Indian Government to clean the country from the corruption  and its effects. He was so admired by the middle class Indian citizens and among the students, that he was almost raised to top place in their hearts with many calling him the modern day Gandhi.
It seems like, People can accept any one as long as he is not against them. When he fought against Corruption, Indians gave him support and stood next to him because he was the man leading in front with the voice of every Indian Household.
However, when he said  drinking Alcohol is bad and one should be warned thrice and then humiliated for drinking, Anna suddenly became a common stranger for almost every Indian.
Its sad that Indian People made Politicians look cheaper by  their changed attitude.  Normally, the Politicians will be against any law as long as the law does not touch them.
What difference does it make between Politicians and the Citizens? None!
What did Anna Hazare say about Alcohol?
Here is the exact words said by Anna Hazare on Alcoholism,
The social activist said that if anyone after drinking creates trouble he would be simply warned thrice because he is "our man "belonging to our village." The person will also be made to understand that it is not good to drink.
"But even after warning him thrice if he again drinks then we will take him to temple and he has to swear by God that he won't drink in future.
And even after all this he drinks then we will tie him up to the electric pole in front of the temple and then beat him up so that he gets scared," he said.
Hazare justified this type of approach saying it is for the benefit of alcoholics since it will force them to get rid of their habit of drinking out of shame after getting beaten in public.
According to Hazare, alcoholics who have been reformed have told him that but for the action of public flogging they would have lost everything.
I reckon, if you want to lead a straight life, life like Mahatma Gandhi, you should start by leaving the Alcohol!