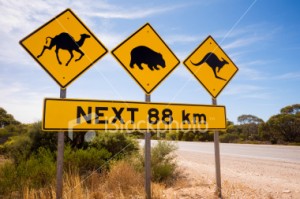 The Australian government have proposed a budget of $16m to stop the growing mess of camel in their continent.
The plan proposed by the government is to kill the camel either from Helicopter or through foot using guns. Now this is not at all welcomed by the Animal Welfare Community who are in War path with the government.
What Camel got to do with Australia eh. Well, Australia in their mid 90's imported Camels in order to make the desert travelling easy in their continent.
The camel though have grown excess in population and are about 1 million now. That is, for every 20 Australians there is atleast 1 camel. If the situation continues the population of camel will double in the current years leaving the government in very serious situation.
Considering every thing in hold, the Australian government finally decided to cull some camels. But this is not welcomed by Animal Welfare Community.
Instead, the community have proposed an alternate plan stating, "Instead of killing the camel, birth control pills or making the camel infertile options should be considered".
There is no word yet from the Australian government on this issue.