China, has proposed a new design of a bus that will eventually drive over a car or bike and need not wait behind the car during traffic.
The Shenzhen Huashi Future Parking Equipment company proposed this designed naming it as  "3D Express Coach" (also known as a "three-dimensional fast bus").
If the design is successful, then the bus will look like this.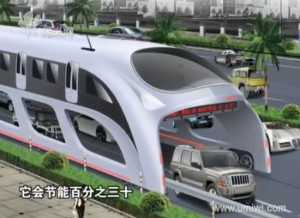 According to China Hush, the 6-meter-wide 3D Express Coach will be powered by a combination of electricity and solar energy, and will be able to travel up to 60 kilometers per hour carrying some 1200 to 1400 passengers.
If you look into the image above, you will find that the cars is actually under a Bus. Looks great, but i reckon this will not be easy to work with.
Agreed that this bus will not stop traffic, a car can easily pass through it . But what about other vehicles like the Buses,trucks which is used now?
What do you reckon?