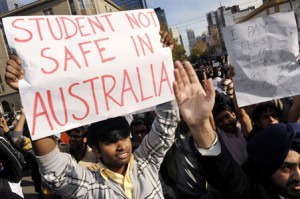 Minister of State for External Affairs Preneet Kaur Friday cautioned Indian students against visiting Australia for the moment following the string of attacks on Indian nationals.
'We are doing all that we can. An advisory has been issued not to visit Australia…,' Preneet Kaur told reporters, reiterating that Indian students should stay away from Australia.
'We are pressurising the Australian government to find the reasons behind the attacks, why have they happened and how they have happened. The reasons behind them (attacks) should be investigated.'
Her comments came as the body of Ranjodh Singh, a fruit picker, who was killed on Dec 29 was flown into Delhi on Friday. Ranjodh Singh was set alight and left to die in the New South Wales farming town of Griffith. Three Indians have been arrested for the crime.
'I think they (Australians) are open now to investigation taking place because of the meeting between foreign minister S.M. Krishna and his counterpart in London,' said Preneet Kaur.
'The first meeting of the joint working group will be over the weekend in the state of Victoria. The attacks on taxi drivers are also something not really acceptable to us Indians and the Indian government.'
Krishna conveyed to his counterpart Stephen Smith in London, where both the ministers were taking part in a conference on Afghanistan, concerns about the attacks on Indian students continuing unabated despite high-level assurances.
Sources said Krishna had told Smith that the incidents of violence against Indians had resulted in public resentment and the attacks, if left unaddressed, could cast a shadow on bilateral relations.
The government had earlier this month issued an advisory warning students heading to Australia for studies and those already in the country.
The ministry of external affairs cautioned students that incidents of violence had started affecting the larger Indian community in Australia.
The advisory came days after accounting graduate Nitin Garg was knifed to death, the first fatality in the attacks.
Source : Yahoo! News