A massive earthquake of magnitude 8.8 has struck Japan followed by a huge Tsunami with waves as high as 13 foot has struck Japan. The tsunami seems to have done more damage to Japan then the earthquake itself. It has brought ships into the city and taken cars to the sea.
The Prime Minister of Japan, Kan Naoto has put Japan in emergency and deployed 800 strong team to manager the crises. The army has been brought to rescue the people and help in relief efforts. Officially the number of dead stands at 8 right now. But the government fears that the damage could be far greater looking at the intensity of the attack.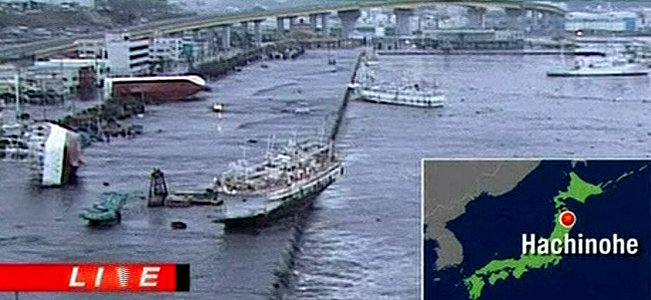 Tsunami warning has also been issued in 20 countries including US, Russia and Indonesia.
Japan is still being stuck by massive after-shocks and experts believe that more tsunami waves could attack Japan.
Prime Minister Naoto Kan said the quake caused "major damage in broad areas" but nuclear power plants in the area were not affected. The government prepared to send troops to the quake-hit areas.
"This is a rare major quake, and damages could quickly rise by the minute," said Junichi Sawada, an official with Japan's Fire and Disaster Management Agency.
You can watch the developing news live at YouTube, provided by Al-Jezeera @ their channel.
http://www.youtube.com/aljazeeraenglish