A rescue team found several bodies but no survivors on Thursday in the wreckage of a Russian plane that crashed into a mountain in Indonesia during an exhibition flight with 45 people on board.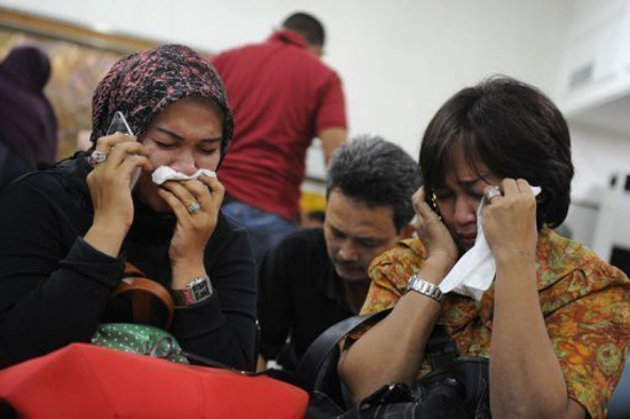 Russia said it would take part in the investigation of the crash of its first all-new passenger jet since the fall of the Soviet Union, a Superjet 100 aircraft that went missing on Wednesday about 40 miles south of Jakarta.
It was carrying Indonesians including journalists and businessmen, eight Russians including embassy officials, pilots and technicians, as well as two Italians, one French citizen and one American, said Vladimir Prisyazhnyuk, the head of Sukhoi Civil Aircraft.
"We haven't found survivors," Gagah Prakoso, spokesman of the search and rescue team, told Indonesia's Metro TV.
Radio contact with the aircraft was lost at about 0800 GMT on Wednesday after it descended to 6,000 feet near Mount Salak, which rises to 7,254 feet above sea level, a rescue official said.
A rescue helicopter spotted debris on the side of the dormant Mount Salak volcano on Thursday, sending teams on a trek across steep and heavily forested terrain to reach the site.
A picture taken from the helicopter appeared to show that the plane hit the top of a wall of rock. Small pieces of white debris could be seen scattered down an exposed stretch of cliff.
The cause of the crash was not known.
"The airplane crashed at the edge of Salak mountain … An investigation must be done immediately and thoroughly," Indonesian President Susilo Bambang Yudhoyono said.
President Vladimir Putin ordered Russian representatives to take part in the investigation, offering his "profound condolences" in a statement on the Kremlin's website.