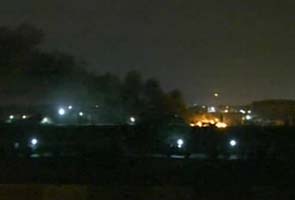 Pakistan Interior Minister Rehman Malik has just confirmed that it is a terror attack and that navy ship PNS Mehran has also been attacked by terrorists.
Multiple blasts rocked the Pakistan's Faisal Military base. Reports indicate that a Pakistan military plane has been set on fire.
So far there has been no details on who is responsible for the attack and how many terrorists infiltrated the base. Gunfire is still being exchanged between the military and the terrorists.
Hospitals across Karachi has been put on emergency and ambulances have been rushed to the military base.
So far, there has no official word on the number of causalities.