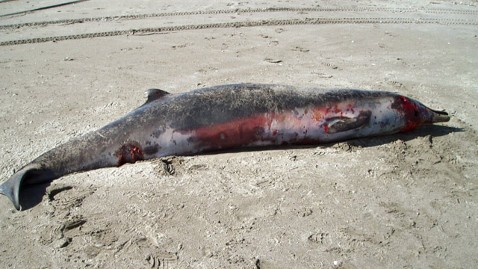 The world's rarest whale has was washed ashore on a New Zealand beach. This happened in 2010, scientists had no idea till today that this species of whale was never documented by the scientists before.
It is safe to call it the world's rarest whale species — so rare that when a mother and calf became stranded and died on a New Zealand beach in 2010, scientists did not believe they had anything unusual.
Now they have done DNA typing and further investigation, and report today in the journal Current Biology that the two were spade-toothed beaked whales, a species never actually seen by scientists before.
"This is the first time a spade-toothed beaked whale has been seen as a complete specimen, and we were lucky enough to find two of them," said lead scientist Rochelle Constantine at the University of Auckland in a statement to accompany the paper.
"Up until now, all we have known about the spade-toothed beaked whale was from three partial skulls collected from New Zealand and Chile over a 140-year period," said Constantine. "It is remarkable that we know almost nothing about such a large mammal."
The mother and her 11-foot-long male calf were buried in the sand after they were found, and tissue samples were sent to the university as a matter of routine.  Six months later, Constantine and a colleague, Kirsten Thompson, finally got around to doing a DNA test — and found they had something never before tested.
"Kirsten and I went quiet. We were pretty stunned," she said in an interview with a local Associated Press reporter.
Spade-toothed beaked whales are thought, like other species, to dive deep for food, living mostly off squid in the southern Pacific.  But biologists concede they are speculating, based on the behavior of similar whales.  Members of this species have never been seen or examined in any detail before.  The two carcasses have been dug up for further study.  Why they beached themselves is a mystery, say the scientists.
"Based on the scarcity of records and the total absence of previous sightings, this species is the least known species of whale and one of the world's rarest living mammals," write Constantine and her colleagues in their report in Current Biology.
"This is good reminder," said Constantine, "of how large the oceans are, and of how little we know about them."