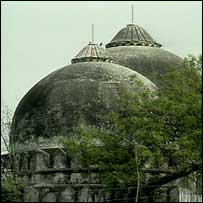 Indian Supreme Court has  stayed the verdict of the controversy Babri Masjid land partition calling it a strange decision by the Allahabad court.
1992

Babri Masjid, a muslim worship place, was demolished in the year 1992 by known Indian Hindu group whose claim was the place is the symbol to the birth of  Ram. Following the demolition, there was violence in many parts of India. After which, the central Government and Indian Army intervened to stop the clashes between the two groups.
Allahabad Court Verdict
Last year, on Sep 30,2010, The Lucknow bench ordered that the land around the disputed site would be divided into three parts — one for Hindus, another for Muslims and the third for Nirmohi Akhara, thereby paving way for confusion all across the country once again.
Both the groups ( Muslims and Hindus ),  appealed in the Supreme Court against the Allahabad Court verdict.
Supreme Court comes into action
The apex court bench of Justice Aftab Alam and Justice R.M. Lodha Monday said that by directing the partition of the disputed site, the high court has given an entirely new dimension to the case.
'It is a rare judgement whose operation has to be stayed,' the court said.
'It was a strange and surprising order that was not prayed for by any of the parties and cannot be allowed to remain,' it said.
While admitting the appeals by all the parties, the court said that 'status quo as a disputed site will remain as directed by the constitution bench of the apex court by its verdict of Jan 7 1993 and that of March 13-14, 2002′.
While ordering the stay, the apex court bench of Justice Aftab Alam and Justice R.M. Lodha said that at least on the issue of the staying the operation of the high court verdict, there is a unanimity.