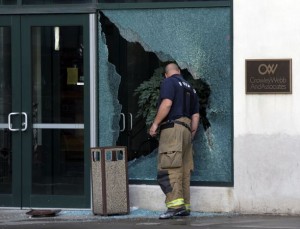 Eight people leaving a party at a downtown Buffalo restaurant were shot early Saturday, four of them fatally, including a Texas man who had returned to his hometown to celebrate his first wedding anniversary, police said.
Managers had decided to close the City Grill in the city's business district after an altercation inside. The victims were leaving at about 2:30 a.m. when gunfire erupted, police said.
"There were verbal things going on. Management apparently chose to close down and have everybody leave the restaurant," Chief of Detectives Dennis Richards said. "People were leaving when this shooting happened."
Investigators did not know how many shooters there were and asked for witnesses to speak up.
"We need people to come forward," said Police Commissioner Daniel Derenda, who estimated there were 100 people at the scene when police arrived.
The group was attending a party in advance of a more formal anniversary celebration scheduled for later Saturday, authorities said. The couple, a 30-year-old man and his wife, married in Texas a year ago and had returned to celebrate with Buffalo-area friends and family, authorities said. The wife was not injured.
"An occasion that should have been a joyous one, a happy one, turned tragic," Mayor Byron Brown said.
Late Saturday morning, police converged on a Buffalo house and brought one man out in handcuffs. Police would not say whether it was related to the shootings.
The dead included two men, the 30-year-old and a 26-year-old, and two women, who were 27 and 32, Richards said. Three were pronounced dead at the scene and the fourth died at a hospital.
Authorities did not release the victims' identities. Raymond Wilhite said his 32-year-old daughter, Tiffany Wilhite, was among those killed.
"A senseless, random killing," said Wilhite, who returned to the restaurant a few hours after the shooting. "This kind of thing just has to stop."
The other woman was identified by her mother as Shawntia McNeil, who was Wilhite's cousin.
"There's no words to explain how I feel," McNeil's mother, Ruby Martin, said. "She got along with everybody. She knows a lot of people. She didn't deserve to be killed. I'm pretty sure it wasn't intended for her."
Authorities say the four wounded were all men. One was in critical condition at a Buffalo hospital Saturday afternoon. Two were in stable condition and one was in good condition.
Tommy Dates, 35, of Buffalo, said he was at the bar area of the restaurant with his friends when he noticed a party had broken up. He said people started leaving the restaurant but rushed back inside a few minutes later.
"A lot of people were real upset, just trying to get out of the way," Dates said at the scene about two hours after the shootings. "Everyone was in a panic."
A message left for the restaurant's owners was not immediately returned.
Three covered bodies lay in front of the restaurant for several hours, one of them on the sidewalk across the street. About 20 people stood behind yellow crime scene tape, some trying to console grief-stricken relatives and friends.
The window of an office next to the Main Street restaurant was shattered, as was glass at a subway stop across the street.
"Nobody knows why," Martin said. "Somebody else was just shooting in a crowd."