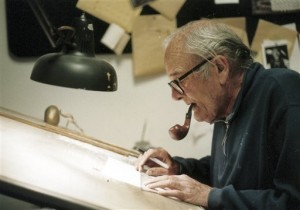 The famous cartoonist who raised  a million questions towards the president and political parties of  united states has passed away. He was 86.
The cause of the death is reported to be a natural one.
Conrad was born in Cedar Rapids, Iowa, in 1924. After college he worked for Denver Post for a time span of 14 years and later he moved to Los Angeles
His most brave representation of  art got him a great spot in the memories of daily readers.  For major part of his life, he used to criticize the presidents of USA through his drawings.
He was once named in Nixon's enemies list which Conrad acknowledge that he is proud of this achievement.
In a 2006 interview with The Associated Press, Conrad compared his favorite target to then-president George W. Bush.
"I felt two ways about Nixon. First, how did an idiot like that become president," said Conrad. "And, secondly, how soon can we get rid of him. Almost the same thing applies to Bush."
The social  analysts remembers conrad on his work for  bringing serious issues through cartoons and his brilliance of public awareness.
As narrator in a PBS documentary on Conrad, Tom Brokaw said: "Every line he draws cries out to the powers that be, 'We're watching you.'"
Indeed he was the greatest cartoonist of our time.
I managed to get some drawings of Paul Conrad  and its listed below