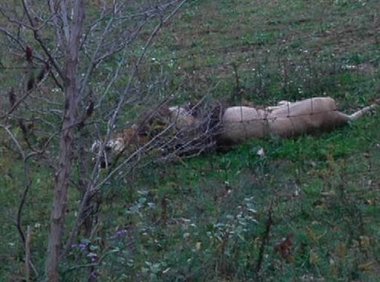 Exotic Animals were released from Muskingum County Animal Farm into the streets of Eastern Ohio causing panic among the locals in the region.
Animals that were released include Lions, Tigers, Cheetah, Giraffe, Wolves, Bears, Camels.  Boy, sounds scary!
Rumors are out stating the Man named Terry Thompson, who committed suicide this Monday might have released the Animals prior to killing himself.
Although the initial blame point towards Terry Thompson, Investigations are On and the authorities are working on it.
When asked on NBC's "Today" show whether Muskingum County Animal Farm owner Terry Thompson may have killed himself, county Sheriff Matt Lutz responded, "Anything's a possibility at this point." He said authorities were awaiting autopsy results. Lutz had said earlier that the death was not suspicious.
Schools Closed
As authorities warned that more animals still were on the loose, three school districts in the region and some private and special schools canceled classes as the remaining bears, big cats and other beasts from the Muskingum County Animal Farm were hunted down.
Flashing signs along area highways told motorists, "Caution exotic animals" and "Stay in vehicle."
The animals' cages had been opened and the farm's fences had been left unsecured, police said. It was "very possible" that Thompson left the cages open, Lutz said.
Close to 30 of the 48 animals were shot and killed on Tuesday. Officials were pondering how to dispose of the remains.
"Once daybreak hits here, we're going back in to get an accountability of how many animals have been put down, how many animals are still penned up," the sheriff told NBC.
The preserve in Zanesville, about 55 miles east of Columbus, had lions, tigers, cheetahs, wolves, giraffes, camels and bears. Police said bears and wolves were among the escaped animals that were killed and there were multiple sightings of exotic animals along a nearby highway.
Lutz called the animals "mature, very big, aggressive" but said a caretaker told authorities the animals had been fed on Monday.
Tuesday night, more than 50 law enforcement officials — including sheriff's deputies, highway patrol officers, police officers and officers from the state Division of Wildlife — patrolled the 40-acre farm and the surrounding areas in cars and trucks, often in rainy downpours. Lutz said they were concerned about big cats and bears hiding in the dark and in trees.
Neighbor Danielle White, whose father's property abuts the animal preserve, said, "It's always been a fear of mine knowing (the preserve's owner) had all those animals. I have kids. I've heard a male lion roar all night."
"This is a bad situation," Lutz said. "It's been a situation for a long time."
Lutz said his office started getting phone calls at about 5:30 p.m. Tuesday that wild animals were loose just west of Zanesville on a road that runs under Interstate 70.
Wonder, what made the cops to shoot the animals. They could have just made them unconscious and dragged them back to the cages instead of killing them.