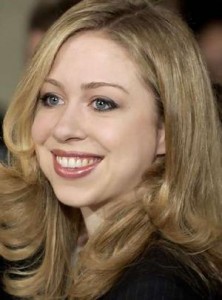 Chelsea Clinton, daughter of Former US President Bill Clinton, has been hired by NBC  news to feature in their  show  "Making a Difference".
NBC news President Steve Capus, said, The appointment was immediate. Ms. Clinton will begin work on stories that NBC expects to use as part of its "Making a Difference" series, which runs on "NBC Nightly News."
Clinton says that it was her late grandmother, Dorothy Rodham, who inspired her to take on this new career. "I hope telling stories through 'Making a Difference' – as in my academic work and non profit work – will help me to live my grandmother's adage of 'Life is not about what happens to you, but about what you do with what happens to you,'" she explained in a statement.
"It's not about Chelsea Clinton saying, 'Here I am; I want to be a TV star.'" Steve Capus, President of NBC News told the NY Times, "[Chelsea] made it very clear that this is not going to be a surface-deep relationship. She wants to be in the field for the shoot and in the edit room for the edit."
Ms. Clinton will now become the second daughter of a president hired by NBC News, and the third daughter of a recent presidential candidate.