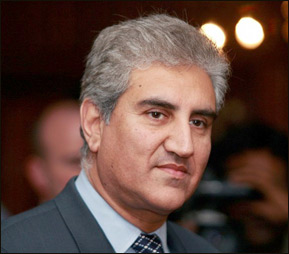 Pakistan Politics is in mess, according to Pakistan's former Finance minister Shah Mehmood Qureshi.
Thenews.com.pk reports Mehmood Qureshi as saying to reporters at the airport,  "While informing Mark Seigel through an e-mail about expected attack on her, Benazir Bhutto had said if she was attacked, Pervaiz Elahi would be involved in it. Therefore, President Zardari is requested that he should not take any hasty decision on forging an alliance with the PML-Q," .
He said sincere circles within the PML-Q and the PPP were also worried about this alliance because it would not benefit the common man. "Besides me, Mian Raza Rabbani and parliamentarians and workers of the PPP and PML-Q have reservations over this alliance. Therefore, a survey should be conducted about this alliance in the two districts of Gujrat and Hafizabad," he demanded.
He said on the one hand, the government was talking of reconciliation and on the other, a secretariat was being built in Lahore for the deputy prime minister.
"On the occasion of the 2008 general elections, former Punjab governor Khalid Maqbool had asked me that the PPP should forge an alliance with the PML-Q so that it could form a government in the Punjab," Qureshi said, adding he had taken this proposal to President Zardari, who rejected it saying 'he cannot forge an alliance with the Qatil League'. He said the president had then said the PPP's alliance with the PML-Q would not be natural.