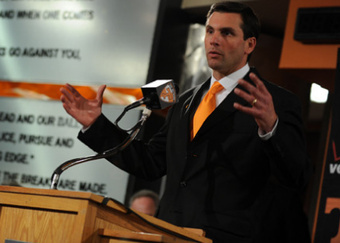 After two years of fumbling and bumbling its football program into SEC irrelevance with bad and worse coaching decisions, the Tennessee administration hope first-year head coach Derek Dooley can put a stop to the madness. Dooley will make his Neyland Stadium debut this Saturday night against UT-Martin after spending the last three seasons as head coach at Louisiana Tech.
Initially, Tennessee fans were upset with the hire because his only head coaching experience prior to Tennessee had been at Louisiana Tech and that he had a losing record of 17-20. But it didn't take long for them to realize Dooley is a better fit in Knoxville than his predecessor, Lane Kiffin, who knew how to make headlines with his 'all style and no substance' approach.
Dooley, who is the son of legendary UGA coach Vince Dooley, comes with a pedigree that demands respect and even though his head coaching experience is limited he has learned from one of college football's best coaches, Nick Saban.  He was an assistant with Saban for seven years when Saban was at LSU and with the Miami Dolphins.  Tennessee should be patient with Dooley and give him time to recruit because this year they are going to be bad.  They only have a handful of players on their roster with playing experience and have a junior college transfer in Matt Simms starting at quarterback.  Still, Dooley seems to be more about substance than style, and that is sitting well with Vols Nation and the rest of the SEC.
Derek Dooley joined 790 the Zone in Atlanta to talk about whether Matt Simms is going to be the starting quarterback, people feeling sorry for him and whether Tennessee's football season is going to be as bad as people think it will be this year, and his father Vince Dooley saying that he would wear Tennessee orange when they play Georgia.
Whether he is relieved that he can now focus on football rather than the off-the-field issues:
"Well we certainly haven't been short of stories up here.  I felt like it was important we keep things exciting for the fans during the offseason so we did a pretty good job of that and everybody is ready to get started this Saturday."
Whether Matt Simms is going to be the starting quarterback:
"Yeah Matt has had a real good camp and he has really improved since the day he got here.  He has only been here since January so he is new to the program, he is new to the guys around him but I felt like we have made a tremendous amount of progress over the course of training camp."
On people feeling sorry for him and whether Tennessee's football season is going to be as bad as people think it will be this year:
"I don't know why anybody would feel sorry for me.  I have been real blessed in my life and I have got as good a job anywhere in the country.  Do we have our challenges?  Of course we do.  You look at our 2-Deep and we have 18 freshman on our 2-Deep.  The good news is that we have some good, young, talented freshman.  It will be a lot of fun to watch them grow, but I know out there in that first game it is like anything.  Anytime you do something the first time you never do it as well as you can.  So it will be fun to watch them but we will be holding our breath on a few plays."
Read the full interview by  Clicking here