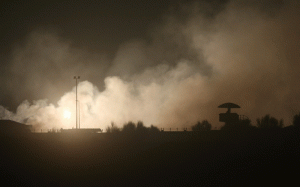 The question of  air safety  is becoming a huge factor of concerns these days. The public have right to feel insecure of what is going on with the Airport department! I feel much anger on seeing the air accidents these days. Why don't they adopt a  safety procedure?
The accidents involving Plane Crash is growing rapid high then compared to other accidents involving train.
The UPS plane crash is the latest candidate to the plane crash incident. Though the cause of the accident is not known, it is sad to quote both the pilots died on the blast.
UPS plane was a cargo ship that was on its way to Germany before ending up in a crash in the middle of the desert of Dubai.
An eyewitness Omanakuttan told Emirates 24|7 "I could see a ball of fire and smoke in the desert area on the Al Ain Road. I was heading towards Dubai from the Global Village. The entire area was on fire."
General Civil Aviation Authority have confirmed the crash adding that bodies of the pilots have been recovered.
An official at Dubai International airport said the crew had reported fire on board and was attempting to turn around to the airport when the plane went down.
Let the souls of the victims rest in peace.