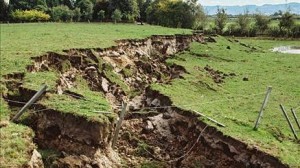 The New Zealand city of Christchurch was extensively damaged early Saturday when it was hit by a massive 7.4-magnitude earthquake which flattened buildings, ripped up roads and cut power, water and sewage connections.
The quake, which was centred 30 km west of the South Island's biggest city at a depth of 33 km, struck at 4:35 a.m. (1635 GMT). Reports said the extent of the damage would not be known until daybreak.
Aftershocks continued to shake the South Island's biggest city as emergency services were flooded with calls and police urged residents not to use mobile phones and to stay indoors.
Police shut down the central business district, where roads were reported blocked by the facades of collapsed buildings and broken glass.
There were no immediate reports of deaths or serious injuries and no tsunami warning was issued.
The quake was felt hundreds of kilometres away and civil defence officials said the national crisis management centre in Wellington had been activated.
Christchurch International Airport was closed and the South Island rail network was shut down pending inspections for damage.
The quake was felt widely across the South Island and in the capital Wellington, at the southern tip of the North Island.