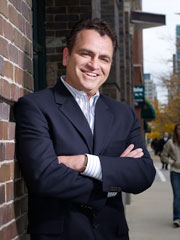 Jay Mariotti a popular and famous sports writer who works for ESPN and fanhouse.com  has been arrested on Domestic violence charges by the Los Angeles Police.
Jay Mariotti conducts a show "Around the Horn " for ESPN.Additionally, his work and  contribution in the field of sports is well known.
But law is equal to everyone. LA police has proved that to us by arresting him at 4.00 am today. He is currently out on bail for $ 50,000.
No comment or update from ESPN so far.