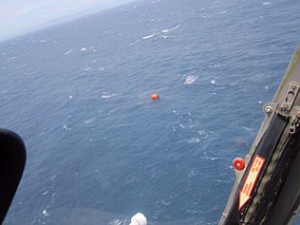 About 100 people are feared trapped inside a ferry that sank in rough weather off Papua New Guinea, a rescue official said on Friday, a day after the crowded boat went down with about 350 people on board.
Rescuers plucked 238 people from the sea off PNG's northeast coast after the MV Rabaul Queen was hit by three large waves and quickly sank, Rony Naigu, a rescue official from Papua New Guinea's maritime safety authority, said on Friday.
While a definitive passenger list was not available, rescuers believed 352 people were on board the ferry when it sank and about 100 people were thought to have been trapped inside, Naigu told Reuters by telephone.
Naigu, who spent Thursday at the scene, said survivors told how the ferry rolled and sank in deep water after it was hit by the waves in stormy conditions.
Scores of passengers survived by clinging to debris before being picked up by at least six merchant vessels that diverted to the scene after being alerted by Australian maritime safety authorities.
"We found a number of (opened liferaft) capsules with no people in them," Naigu said.
As rescuers resumed their search on Friday, relatives of those missing vented their anger over a lack of information from authorities, Australian media reported.
Survivors had been taken to Lae on PNG's north coast early on Friday, said Nurur Rahman, acting chief of Papua New Guinea's maritime authority.
"As you would expect people who have been in the water for such a long time have a bit of dehydration, and they are very tired," Rahman told Reuters by telephone.
No bodies had been recovered on Thursday before nightfall halted the search, he added.
Police in West New Britain said relatives angry at the lack of information about their family members on the ship threw stones at the offices of the ferry operators, Rabaul Shipping, Australian Broadcasting Corporation Radio reported.
"There were a lot of people crying and then they wanted to know the fate of their loved ones, the people actually who were on board the Rabaul ship," Inspector Samson Siguyaru said.