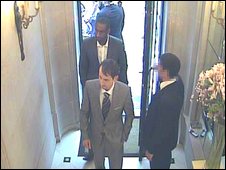 A well 'planning and execution' of the plan which most robbers dread to happen in existence actually happened in one of the Jewellery shops in UK, thereby successfully getting hold of   £40m from the jewellers.
The police quote this robbery as most perfectly executed and said this is  the second most money robbed throughout Britain. The first ofcourse is the robbery of 50million euros which also relates to a Jewellery shop.
Now, you wont believe this. Both the robbers, Successfully got hold of  43 items from the shop. Ah, this act requires some holding up and they did exactly the dirty work.
One of the staff of Graff Jewellery were taken along the robbers and they did 2 gun shots in open air to make things happen for them.
The people who entered the jewellery were neatly dressed, police says.  The Police release the CCTV of the robbers and it can be noticed that
"The first suspect is described as white, about 30 years old, slim and between 5ft 10ins and 6ft tall.The other man is described as black, in his 30s, 6ft tall, more well- built than the first suspect, with very short hair".
Det Ch Insp Pam Mace from the Flying Squad said: "This was a well planned robbery with a number of vehicles used to help the robbers escape.
"These men are extremely dangerous and fired at least two shots in busy London streets as they made their getaway.
"Someone knows who these men are, they would undoubtedly have spoken about it beforehand or boasted about it afterwards."
As usual though, the robbers used cars to escape the scene of crime  and changed the vehicle occasionally to make thing Easy on them and difficult for police to trace.