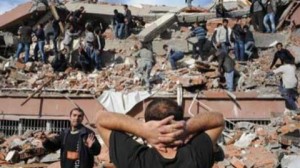 An Earthquake measuring 7.3 in magnitude has strike Turkey leaving it in a  devastating state. The hard  hit region was Van,a highly populated Turkish City and Ercis.
The quake's epicenter was in the village of Tabanli, 10 miles (17
kilometers) from Van. It struck at 10:41 a.m. local time, at a depth of 12.4 miles (20 kilometers), according to the U.S. Geological Survey.
State-run TRT television reported that 45 people were killed and 150 injured in the eastern town of Ercis, and 15 others died in the provincial center of Van. Turkish scientists estimated that up to 1,000 people could already be dead, due to low housing standards in the area and the size of the quake.
"There are so many dead. Several buildings have collapsed. There is too much destruction," Ercis mayor Zulfikar Arapoglu told NTV television. "We need urgent aid. We need medics."
Rescuers in Van scrambled to find survivors in a flattened eight-story building that had shops on the ground floor, television footage showed. Residents sobbed outside the ruins, hoping that missing relatives would be rescued.
Serious damage and casualties were also reported in the district of
Celebibag, near Ercis.
"There are many people under the rubble," Veysel Keser, mayor of Celebibag, told NTV. "People are in agony, we can hear their screams for help. We need urgent help."
He said many buildings had collapsed, including student dormitories, hotels and gas stations.
"There is serious human and material loss," said a brief statement
from the the national disaster body which is based in the prime minister's office.
"Many multi-floor buildings, hotels and a dormitory were collapsed,"
said Veysel Keser, a local official from Van.
"We can hear voices from the collapsed buildings," he said.
Television footage showed collapsed buildings and vehicles, with residents rushing in panic in the streets.
"People are panicked. The telecommunication services have collapsed. We cannot reach anybody," Van Mayor Bekir Kaya told the NTV television in an initial assessment.
The government is due to send satellite phones to the region, according to media reports. The army will also send search and rescue teams to the area.
May the Souls of the dead, rest in peace!