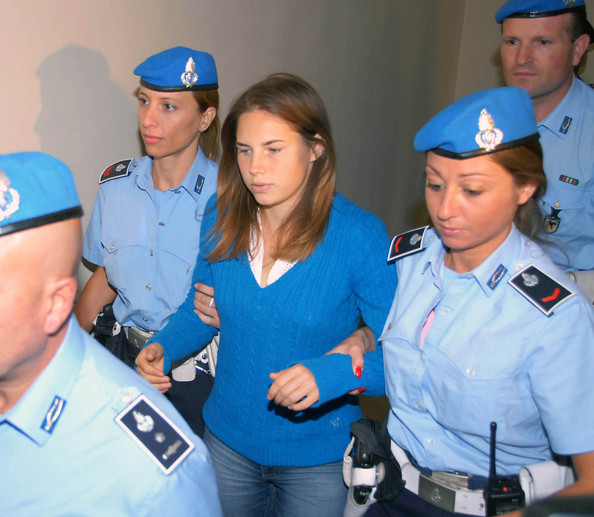 Amanda Knox could be dragged back into court for the murder of her roommate Meredith Kercher.
The Supreme Court in Italy will decide on Monday if it should overturn Amanda Knox's acquittal in the murder of a British exchange student in 2007, Meredith Kercher.
Both Amanda Knox and Raffaele Sollecito were cleared in 2011 for the murder of Meredith Kercher. But now the court wants to know if this case should be re-tried.
Kercher was found dead in the bedroom of the Perugia house she shared with Knox in 2007. Knox spent more than four years in jail before her acquittal two years ago.
The sister of Meredith Kercher, Stephanie, told the Mail on Sunday: "There are lots of questions without answers and that's why we are looking for the truth."
She added that her family hopes "that the supreme court hearing will help to find some answers to what happened that night."
The case will be decided based on court documents and there are no new witnesses or evidence. Unlike the U.S., one can be tried for the same crime twice in Italy.
Since her acquittal, Knox returned to Seattle and is working on a memoir. She also is currently attending the University of Washington.
Her book, "Waiting to Be Heard," will be published on April 30, reported ABC News. She reportedly got $4 million for the book deal.
Knox will give her first interview to ABC News in late April.
Sollecito's father, Francesco Sollecito, said his son is in living in the Italian town of Verona, studying surgery applications.
"He is currently working on a project which involves the practical application of his studies, applications which allow one to manipulate instruments during surgical interventions," Francesco Sollecito told the Telegraph last week. "We are all apprehensive about the court ruling."
A third person in the case, Rudy Guede, is serving 16 years for Kercher's murder after he was convicted in a separate trial. His DNA was found on Kercher's purse, clothing, and body. His bloody shoeprints and handprints were also left in her room.