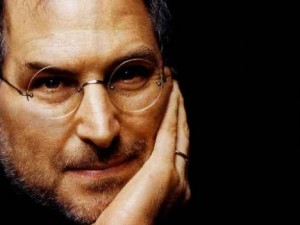 Steve Jobs, the man behind Apple fairytale success has passed away this Wednesday. He was 56.
Steve Jobs, the Co-Founder and Former CEO of APPLE Inc. was fighting with pancreatic cancer for very long time.
Every month or so, a rumors comes out that he is dead. But, the dreadful thing has just happened. He died.
During his death, he was surrounded by his family who quoted to Xinhua,  "Steve died peacefully today surrounded by his family. We are grateful for the support and kindness of those who share our feelings for Steve. We know many of you will mourn with us, and we ask that you respect our privacy during our time of grief".
Tributes are pouring out in millions from Apple's fans and from his rivals who in their statement cannot believe the loss of his visionary.
Even President Obama felt the pain, Reuters reports American President Obama as saying, "The world has lost a visionary. And there may be no greater tribute to Steve's success than the fact that much of the world learned of his passing on a device he invented".
Yes, indeed. The man who revolutionized the concept of  communication with all the exciting option and bringing everything together as ipad, iPhone,  was indeed a greater achievement for him.
If you ask me, i would say, Steve worked all his life to change the technological aspect the world was moving with and he succeeded.
Great Honor
"For those of us lucky enough to get to work with him, it's been an insanely great honor," said Microsoft's  Bill Gates, who once triumphed over Jobs but has seen his legendary status overtaken by the Apple (AAPL.O) co-founder in recent years.
Fans paid homage to Jobs outside Apple stores around the world, from Los Angeles to Sydney. Outside one store in New York City, mourners laid candles, bouquets of flowers, an apple and an iPod Touch in a makeshift memorial. In San Francisco, they held up black-and-white portraits of Jobs on their iPads
Steve Jobs was a man, who turned the bankrupt Apple to a success Billionaire company. From millions to billions probably trillions.
When i reported a news last february about Steve job having only 16 weeks to live, i never thought the news was true. Now, he is dead.

May his soul Rest In Peace