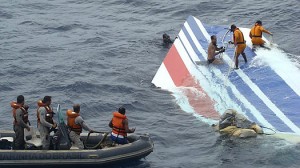 A French team has recovered the first body from the seabed debris of the Air France jet that crashed into the Atlantic in 2009, killing 228 people.
The body was brought to the surface by mini-submarines from a depth of almost 4km (2.4 miles).
Samples are being sent to labs in France for DNA identification. Police are not sure whether all the bodies can be raised from the wreckage.
Data on the recovered flight recorders may indicate the cause of the crash.
The Air France Airbus A330 was flying from Rio de Janeiro to Paris when it plunged into the sea.
Flight AF 447 was carrying 228 people. Fifty-one bodies were found floating on the surface in 2009.
The French team is using deep-sea robots in the salvage operation.
The body brought up to a ship on Thursday consisted of skeletal remains, still strapped to a seat.
Relatives of the crash victims are divided over whether to move the bodies at all, with some arguing for repatriation and others saying the crash site should be the final resting place.