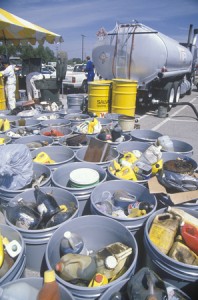 Tough days for Brazil police after  the finding's of 64 containers with more than 1400 tonnes of hazardous UK waste on their countries ports. All the Brazil authorities are shocked and agitated with this incident.
The finds were made in the port of Santos near to Sao Paulo and two other ports in the southern state of Rio Grande do Sul.
One of the Brazil authority added that, "we will not let Brazil to be a garbage place for the world's waste". His statement was in full of anger and rage over Britain. Britain's Embassy on the other hand have promised a strict and immediate action on the companies involved in this act.
It is reported that the containers contain  Batteries, Condoms, nappins, syringes. Well these waste was found in the containers.
The incident that made the Brazil crowd anger is , One of the containers  that has waste toys  has a line written to it, "Wash it clean before giving to Brazilian poor"
This is such a disgusting act by the companies. It shows How much they illtreat a poor people.
Brazil police have already acted on its waste disposal agencies and is suspecting the involvement of 2 more UK based Companies.
All Uk  government is doing to solve the issue is standing firm on the words that,  "We will take strict action on the culprits".