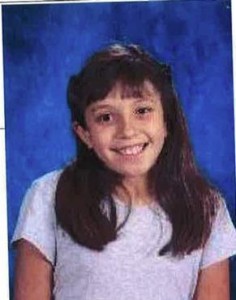 A 9 year old girl named Calysta Cordova, is now a child icon for millions of kids worldwide thanks to her heroic confrontation with the bad-guy (kidnapper).
Man, if you do something like the girl did, you should get an honor of Bravery reward.
Calysta's Kidnap
Calysta was kidnapped late Thursday evening by a 29-year-old suspect Jose Garcia. According to cops, she might have been abducted during her walk home.
"My baby girl always walks through my door at 3:21 p.m. I noticed something was wrong, when she was nine minutes late…I called everyone, I panicked," said Steven Ryno, Calysta's stepfather.
"We must find her, that was the main thing that was kicking through our head. It is getting late, it is getting dark, it is getting cold, and I know my baby is hungry," said Ryno, recounting the incident.
Calysta's Bravery
The Guy kidnapped the child in a car and was off when the car broke down. He asks lift from a passerby and  request him to drop to a store named Circle K convenience, police said. There, Calysta ran into the store and asked for a phone, saying she wanted to call her uncle. Instead, she called 911.
When asked how she found the strength to do what she did, Calysta said in an exclusive interview with "Good Morning America," that she "got my fight from Daddy."
Calysta said her father taught her "to stand up for myself."
"She had two black eyes, bruises on her cheek," witness Efrin Villapondo told KMGH. "She was in bad shape. The bruise on her face was enormous."
When Garcia entered the store, Calysta defiantly refused to go anywhere with him, yelling, "I'm not going anywhere with you. I'm waiting for my mom," according to police.
"She looked at me, pointed into my eyes and just said, 'I ain't going nowhere. I'm waiting right here for my momma. I looked at the guy, he looked at me, into my eyes, spun around and just high-tailed it out of there," said Efrin Villapando, a witness.
Garcia took off on foot before police arrived. Calysta was transported to Memorial Hospital to be treated for her injuries.
"Thank God. Thank you for everybody who watched, who kept an eye out for my daughter and brought her home," Cordova said, crying. "Thank you for your kindness, for putting yourselves in our shoes and bringing my daughter home."