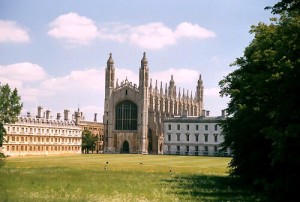 Cambridge University has edged out Harvard to become the first non-US university to top a global ranking, according to a survey released Wednesday.
The British-based Cambridge knocked Harvard out of the top spot for the first time in the seven-year history of the QS World University Rankings released by the London consultancy Quacquarelli Symonds Limited.
The survey, which in previous years had been conducted with The Times of London, had six American and four British schools in the top 10.
US-based Yale University was ranked third, followed by University College London, the Massachusetts Institute of Technology, Oxford University, Imperial College London, the University of Chicago, California Institute of Technology and Princeton University.
There were 22 countries represented in the top 100, up from 19 last year, in the ranking that surveyed over 15,000 academics and 5,000 employers.
Although Harvard was the most popular among the employers polled globally, Cambridge edged ahead overall and was rated the best for research quality.
"Unlike other rankings systems which rely heavily on statistical indicators of university research, QS also takes into account the most up-to-date views of employers and academics, reflecting the broader interests of students and parents," said QS researcher Ben Sowter. "QS rankings reflect the highly competitive environment of global higher education."
Global university rankings have been a source of controversy, especially in Europe.
Another widely recognized survey by the Chinese-based Jiaotong University's Centre for World-Class Universities last month showed Harvard at the top for the eighth straight year, drawing criticism in Europe because it relied largely on scientific research.
Eight of the top 10 in the Chinese survey were US universities, with Cambridge ranked fifth and Oxford 10th.