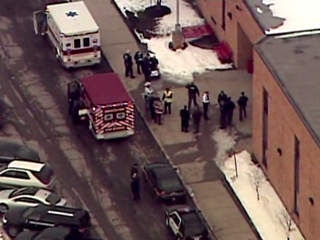 Five students were injured and one gunman is in custody following a shooting this morning at Chardon High School in Ohio.
The gunman opened fire with a handgun just before 8 a.m. in the school cafeteria where students were eating breakfast, authorities and witnesses said.
The shooter was chased out of the building by a teacher and later turned himself in to a passerby, authorities said at a news conference. Police have not yet confirmed if the gunman was a student at the school, but junior Heather Ziska told the Associated Press she recognized the shooter as a fellow student.
The suspect is in custody at Geauga County Safety Center, according to ABC News' Cleveland affiliate WEWS.
"A prompt entry was made into the school. They went into the school and located the victims. It became readily apparent that the shooter had fled already," a police official said at a news conference. "The individual was apprehended some distance from the school and had fled on foot."
The officer said police created a security perimeter to make sure the gunman could not return and a search, including a K-9 unit, was launched for the suspect.
Two students were taken by ambulance to Hillcrest Hospital and three were taken by helicopter to MetroHealth Hospital, according to WEWS.
Parent Teresa Hunt told WEWS that she was texting with her daughter during the lockdown and her daughter said she heard five shots fired in the cafeteria about 7:30 a.m. Her daughter texted that students were scared and that four people had been shot.
Chardon student Evan Erasmus told WEWS that a student had tweeted that he was going to bring a gun to school, but that no one took him seriously.
The Chardon Fire Department was called to the school at about 7:45 a.m. in response to a report of "several people shot," according to Inspector William Crowley of the Chardon Fire Department.
Multiple law enforcement agencies are on-scene, including a SWAT team that is checking the entire school.
"We are on scene and can confirm that a SWAT team is out there, making things secure and, of course, conducting the preliminary steps of the investigation with the local authorities that called us," Vicki Anderson, a spokeswoman for the FBI's Cleveland division, told ABCNews.com.
The superintendent immediately canceled classes at all schools in the district. Students who were still on school buses were being dropped back off at their homes and parents were called to pick up their children that were already at school.
The Chardon School District sent a voicemail to parents that schools are closed and high school students are being moved to the middle school, according to WEWS.
Parents received the following message:
"As of 9:00 AM the alleged sole CHS gunman is in custody and Chardon High School students are being moved by safety forces to Maple Elementary. Parents or legal guardians can pick up their students up any time. Chardon Middle School students are also being released to parents."
Ohio Gov. John Kasich tweeted around 9:30 a.m., "Pls pray for wounded Chardon HS students, their families, and their community; appears things under control now."