Samsung's newest 10.1-inch tablet, the Galaxy Note 10.1, is thin, light and powerful. The new Samsung model will be very comfortable to hold (it's 8.9mm thick) and  fast in responsive.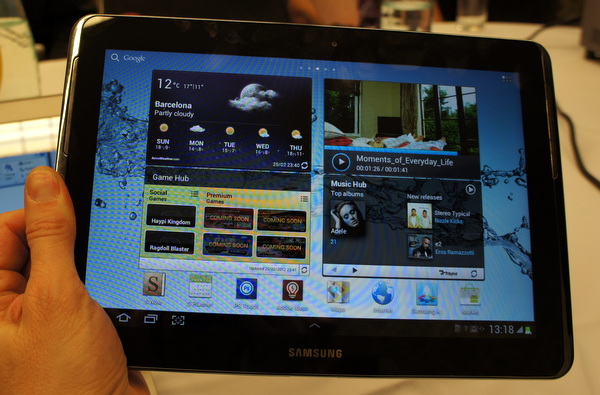 So Software wise you may find the Note 10.1 updated with pretty cool stuff. Running on Android 4.0 with TouchWiz and a number of optimizations for the Wacom-based S-Pen, including the quick shortcut to bring up the S-Notes app by tapping twice on the screen while holding the pen button down. Samsung has updated the Pen with support for pressure sensitivity,.
With its updated  pen technology, Samsung Note 10.1 will be able to recognize even more degrees of pressure than you could on the original Notepad.
Inside the Android 4.0 device is a dual-core 1.4GHz mobile CPU, a 3-megapixel camera on the back and a 2 megapixel camera on the front. The device, though, is also packed with a bunch of pen-ready software, including the just-announced Adobe PhotoShop Touch, and a bunch of S-Pen Samsung apps.
Mashable reports Samsung as warning them that while the hardware for the Notepad 10.1 was final, the software was not.
I reckon, we may expect some changes on the final release of the Samsung Notepad 10.1
Other notable features include a micro-SD card slot, full HD video support and the ability to work with other Wacom digitizing pens.
Samsung execs said the tablet will ship globally with HSPA+ (no LTE for now) and Wi-Fi — as well as a Wi-Fi-only version — some time in Q2.
Pricing has not yet been set.