Cruise Ship Captain Francesco Schettino who abandoned the sinking ship was arrested today with charges of man slaughtering against his name.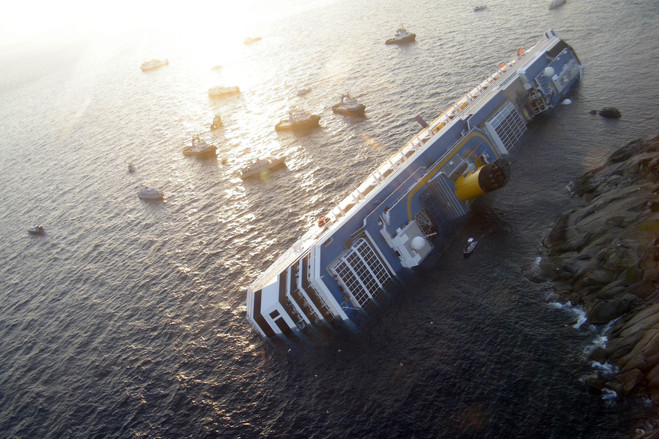 Three people including two French tourists and a Peruvian crew member were confirmed to have died and 41 were still unaccounted for after the 114,000-tonne Costa Concordia smashed into rocks near the island of Giglio.
Authorities said that Francesco Schettino, 52, who has worked for the owners of the cruise liner for 11 years, was being investigated for manslaughter and abandoning his ship.
Prosecutor Francesco Velusio was quoted as saying that the vessel "was mistakenly close" to the island on a route ordered by Schettino through well-mapped sea lanes.
There was speculation that a power failure on board the ship could have led to a loss of navigational control, sending it smashing into the rocks. Experts said that passengers reported a power blackout and a large blast, which may have indicated an explosion in the engine room.
Titanic  2012
Survivors re-accounted the horror the faced as the ship began to list heavily following what sounded like a loud explosion. "Have you seen Titanic? That's exactly what it was like for us," said Valerie Ananias, 31, a schoolteacher from Los Angeles travelling with her sister and parents.
Schettino said that the ship had struck rocks "which were not indicated on maps". He denied allegations that he was sailing too close to the coast.
"We were 300 metres from the rocks and that outcrop should not have been there," he said. As dawn broke yesterday, a huge chunk of torn-off rock could be seen protruding from a 50-metre long gash in the ship's hull below the waterline.
Schettino tried to steer the ship towards the coast to make evacuation easier, but as water poured into the lower decks the vessel began to list dangerously and it was soon too late to lower the lifeboats.
Passengers complained that they had urged crew members to let them on to the lifeboats as the ship manoeuvred but were told the captain had not yet given permission. A group of Croatian tourists said that, due to the listing of the ship, one lifeboat that had been eventually loaded with passengers crashed back into the hull.
"There was panic immediately," said Francesca Sinatra, a passenger from Rome. "People were shouting and climbing on each other." The lifeboat that she was in collided a number of times with the listing hull as it was lowered due to the angle, she added.
Mara Parmegiani Alfonsi, an Italian journalist who was on board, said that the crew did not appear to have been trained for the emergency.