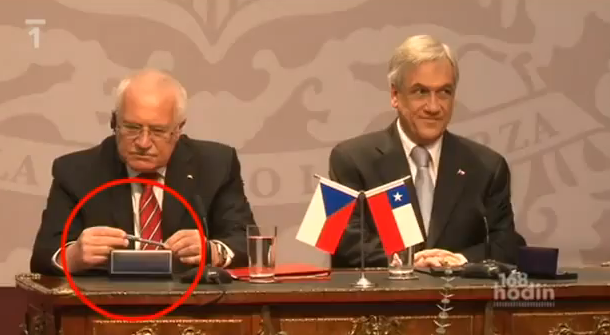 Well it at least seems that he took it out of the box and sneakingly kept it in his pocket. The question is, is it his pen? Or he is just 'misplaced' it in his pocket.
The video of Czech Republic President stealing a pen has gone viral in Youtube.
We are all annoyed of people who ask for pen and never return it and people who are too lazy to bring a pen for themselves. Looks like President Vaclav Klaus is one of them.
President Vaclav Klaus stole the ceremonial pen during a recent visit to Chile. What's more, the brazen stylus heist took place in full view of the media during a ceremony to announce a trade agreement. The video shows Klaus clearly admiring the pen, then slowly moving it into one of his jacket pockets as Chilean President Sebastian Pinera speaks to the assembled members of the media. Looks like somebody is clearly bored with the all the taking.
Now, Reuters is reporting that some Czech citizens are accusing Klaus of being a kleptomaniac. But the president's staffers claim that he had every right to take the pen—and that he was, in fact, acting entirely in line with established Czech state protocols. "We at the Prague Castle always give such a pen to delegations, along with a notepad," presidential spokesman Radim Ochvat told the news agency.
You can watch video of the incident, complete with graphics and a humorous soundtrack, below: