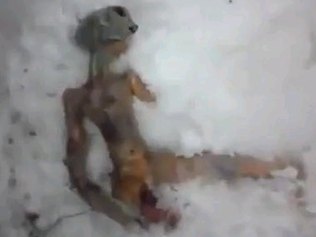 An you tube video has surfaced online showing the body of an alien found dead in Siberian Snow.
The slender, badly damaged corpse was found lying on a bed of snow with its head to one side and mouth slightly open, the Daily Mail reported.
"We couldn't believe it when we saw it. And what was spooky is that there was no sign of the spaceship. Perhaps that was taken away and the body overlooked," said Igor Molovic, one of the pair that uploaded the video.
General Users Response
We get mix response from general audience. Where some believe it is actually a carefully crafted model of an alien's body, and not the real deal.
We still have Alien Lovers in the globe. Hear what they have to say,   "It's so lame how people always get thrilled by having another excuse to shout 'Fake! fake!' every time something weird shows up. Unless proven otherwise, this is in fact plausible," posted one user.
Lol! My own reason to disbelieve in Alien existence and this new Siberian dead Alien drama is simple. I reckon the people who uploaded the video want to advertise the region.
Firstly, It's suspicious that the alien just happens to look almost exactly like the popular depictions of "little green (or gray) men." These are the typical big-headed, small-limbed aliens that appear on T-shirts, movies, books, and elsewhere.
The alien dummy's skin is translucent, which is a nice creepy effect seen in many Hollywood films, but could have easily been made using clear gelatin and animal parts from a butcher shop.
Watch the Youtube video of the Dead Alien. I am sure if  the general user can think. They will find it funny.