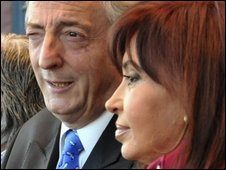 Former Argentine President Nestor Kirchner has announced that he will resign as the head of the party after finishing second in the high profile race with a Millionaire. Some believe that, the rival faction within the party is the root cause of the resignation.
Now this is said to be a major drawback for the ruling Peronist party as they are supposed to see mid polls soon. After the retirement from the Argentine President earlier 2007, his wife Cristina Fernandez  succeeded him as the President of Argentine.
Even the current government under President Cristina Fernandez is facing hard times due to few unpopular economic policies  and the increase effect of global meltdown.Correspondents say Sunday's mid-term polls were seen as a referendum on the presidential couple who have dominated Argentine politics for the past six years.
President Cristina has brought the october elections earlier  arguing that this may help the country to reunite in this bad times of global recession.