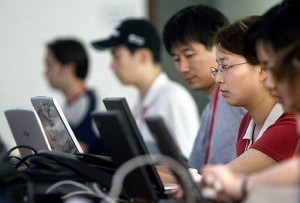 German higher authorities are worried over twitter. Twitter is a social networking site that connects  thousands across the country and millions across the world. The major worry for the officials and politicians  is that the social networking can play spoil sport in the announcement of the general elections result.
There is a law in Germany which stops the announcement of the results through any means until it is officially announced to the people. The media person pay in advance to the government to get access to the real result. The normal interactivity of people in social networking sites leaks the results before it is announced and some times earlier at counting stage itself.
If some change after counting the final voting occured in the change of  the result that was predicted earlier by the people, frustration and counter Act Backlash is possible.
Der Spiegel quoted Roderich Egeler, Germany's federal election commissioner, saying, 'it would be a disaster if the survey results were released before voting stations close'. Egeler said this might lead to court challenges to the legal validity of the election.