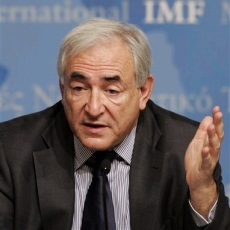 The International Monetary Fund Chief, Dominique Strauss-Kahn who was arrested on charges of raping a maid when he was trying to leave the country has been denied bail and ordered to be held at the New York City jail.
The chief of the International Monetary Fund was spending the night in jail at Rikers Island, a 400-acre penal complex that offers a strikingly different level of comfort than the $3,000-a-night Manhattan hotel suite where authorities say Dominique Strauss-Kahn tried to rape a maid.
Strauss-Kahn was being held on a charge that would normally result in release, but he was denied bail Monday after prosecutors warned the wealthy banker might flee to France and put himself beyond the reach of U.S. law like the filmmaker Roman Polanski.
Strauss-Kahn's weekend arrest rocked the financial world as the IMF grapples with the European debt crisis, and upended French presidential politics. Strauss-Kahn, a member of France's Socialist party, was widely considered the strongest potential challenger next year to President Nicolas Sarkozy.
Because of his high profile, Strauss-Kahn will be held in protective custody on Rikers Island, away from most detainees, said city Correction Department spokesman Stephen Morello. Unlike most prisoners who share 50-bed barracks, he will have a single-bed cell and will eat all of his meals alone there. He'll have a prison guard escort when he is outside his cell.
Strauss-Kahn is accused of attacking a maid who had gone in to clean his penthouse suite Saturday afternoon at a luxury hotel near Times Square. He is charged with attempted rape, sex abuse, a criminal sex act, unlawful imprisonment and forcible touching. The most serious charge carries five to 25 years in prison.
The 32-year-old maid told authorities that she thought the suite was empty but that Strauss-Kahn emerged from the bathroom naked, chased her down a hallway, pulled her into a bedroom and dragged her into a bathroom, police said.
He grabbed her breasts, tried to pull down her pantyhose, grabbed at her crotch and forced her to perform oral sex on him during the encounter at about noon, according to a court complaint. She ultimately broke free, escaped the room and told hotel staffers what had happened, authorities said. She was treated at a hospital for minor injuries.
"The victim provided a very powerful and detailed account of the violent sexual assault," Assistant District Attorney John "Ardie" McConnell said. He added that forensic evidence may support her account. Strauss-Kahn voluntarily submitted to a forensic examination Sunday night.
Wonder how Strauss-Kahn will be able to evade the law now. Looks like his hopes of becoming the President of France are getting thinner by the second. The debt-ridden Europe might just get another reason to go into recession pulling the whole world along with it.