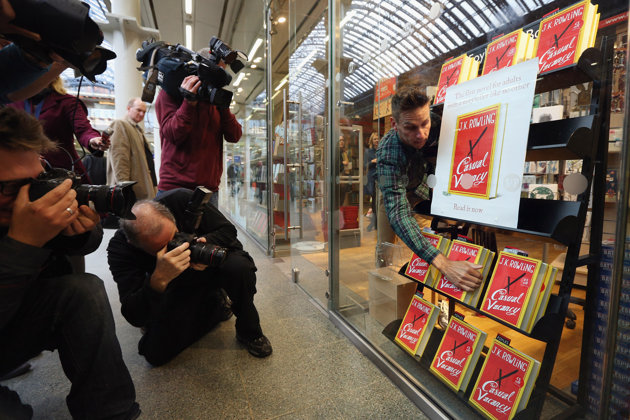 The Casual Vacancy by JK Rowling has hit the stores. This is Rowling's first novel after the immensely successful Harry Potter series. The surprise part is, The Casual Vacancy is only for adults.
The Casual Vacancy didn't attract the overnight line running miles in store, but yes, they were lines. The grown-up fans who grew through the Harry Potter lined-up to get their copy of The Casual Vacancy.
Published five years after the release of the last book in the boy wizard saga, "The Casual Vacancy" is already at No. 1 on Amazon's U.S. chart, and bookmaker William Hill put 2/1 odds on it outselling "Harry Potter and the Deathly Hallows," which shifted 2.6 million copies in Britain on its first day.
Many of the early buyers were Harry Potter fans who, like the author, have moved on to more adult fare.
"I just like how much excitement there is about a book," said 23-year-old Grace Proctor, a "massive" Potter fan who was first to buy the book at one London store.
"I think there are going to be people who will hate it just because they can hate it," she said. "But she's such an amazing writer, I don't think she can go wrong."
A story of ambition, envy and rivalry set in the fictional English village of Pagford, the novel recounts the civic warfare sparked when the unexpected death of a town official leaves a vacancy on the governing body. Characters set on a collision course range from the affluent lawyer Miles Mollison to the Weedons, a ramshackle clan living in The Fields, the run-down housing project on the edge of town.
The Guardian newspaper's reviewer, Theo Tait, said it was "no masterpiece, but it's not bad at all: intelligent, workmanlike, and often funny."
The Independent's Boyd Tonkin found the sometimes "long-winded and laborious" writing soared when Rowling focused on her teenage characters.
Others, though, felt the lack of likable characters might alienate readers, and Daily Mail reviewer Jan Moir slammed Rowling's stark focus on Pagford's haves and have-nots as the work of a "left-leaning demagogue" painting "a bleak and rather one-sided vision of life in modern England."
It's likely nothing Rowling publishes will ever match the success of the Potter books, which have sold more than 450 million copies around the world.
But booksellers are confident "The Casual Vacancy" will be one of the year's best-sellers, whatever reviewers say.
"A lot of children have grown up with Harry Potter. They're now adults who love books," said Susan Sinclair, divisional manager for the Foyles bookstore chain.
"I think it's going to be a really big seller at Christmas. It'll be an easy gift — but also a good one."
Well, lets wait for the critics.