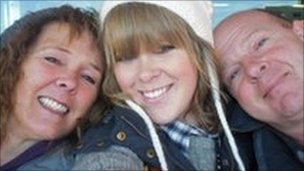 Two bodies was found in a bed in Shropshire home. The body is recognized to be of mother and daughter.
Hugh McFall, 48, is believed to have murdered wife Sue, 56, and daughter Francesca, 18, at their Oswestry home in February before taking his own life.
Post-mortem tests found Francesca was hit on the head at least five times and her mother once, probably while asleep.
A rubber mallet was found by Mrs McFall's feet, the inquest was told.
Mr McFall was later found hanging in an industrial unit near to their Hampton Road bungalow on 5 February.
Home Office pathologist, Alexander Kolar, has been speaking at the inquest into the three deaths at Shrewsbury Magistrates' Court.
The inquest is expected to last two days.