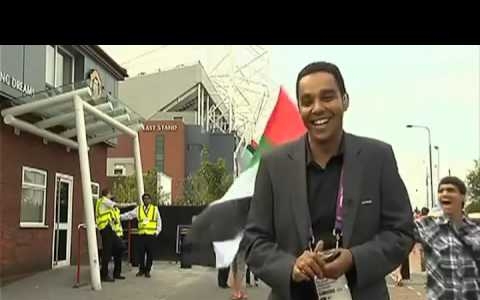 An Olympic Reporter was kissed by a over-zealous soccer fan. She just came out of nowhere planted a kiss on the reporter and left the scene. The weird part is the reporter is a Muslim who was reporting for Sky News, he was also observing fasting when he will have to refrain from all food and drink, as well as all sexual contact.
An Olympic reporter received a kiss from an excited soccer fan as he was broadcasting live to viewers on Sky News.

The incident has caught the attention of thousands online who found the incident hilarious. It all happened as the Sky News reporter was reporting outside Old Trafford, which is the home ground of soccer giants Manchester United in England.
However, as the reporter was giving his report a playful soccer fan attacks him with a kiss.
The reporter actually tries to fight off the overjoyed fan at first in an attempt to continue his report, however, the fan refused to take no for an answer. She is shown in the video being undeterred, wrapping her hands around the reporter's head and pulling him in for a big kiss.

The colleagues of the reporter burst out in laughter at the incident, and the reporter is shown visibly embarrassed, although also chuckling at the kiss.
Check out the video below: