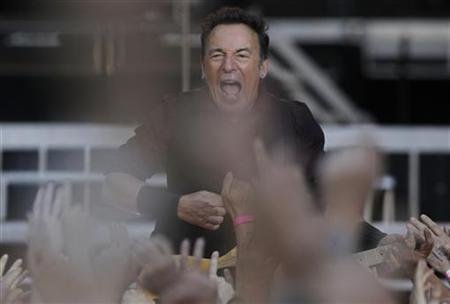 Bruce Springsteen concert in London's Hyde Park on Saturday was reaching epic levels as Bruce was rocking on for more than three hours. Bruce Springsteen was also joined by ex-Beatle Paul McCartney on stage but everything ended suddenly.
Bruce Springsteen who is now 62-years-old didn't seems like anything was going to stop him and Paul McCartney as they were entertaining massive crowd of 65,000 fans who were rain-soaked to their bones!
The organizers on the other hand had something else to worry about, they had agreed to a 10:30 PM curfew, with Bruce Springsteen and Paul McCartney hitting the accelerator with no end in sight they were forced to turn-off the microphone. Ah, what a shame!
The Hard Rock Calling festival was the New Jersey native's 45th show in a 67-date tour of North America and Europe tied to "Wrecking Ball", a new album full of angry songs about corporate greed and the plight of ordinary working men and women.
Unlike on other dates, when he has introduced new songs such as "Jack of All Trades" and "Shackled and Drawn" with commentaries on the economic crisis, he avoided political polemics for the most part in a city that has been rocked by a new round of banking scandals in the past month. The focus was on having a giant street party.
Springsteen opened with "Thunder Road", standing alone at the microphone accompanied only by pianist Roy Bittan. It was, he noted, the first song he had played in his debut appearance in London at the Hammersmith Odeon in 1975.
He followed that with "Badlands", the crowd singing along word for word and its apt refrain of "poor man wanna be rich, rich man wanna be king, and a king ain't satisfied 'til he rules everything". With "City of Ruins", he paid tribute to lost friends, notably Clarence Clemons, his longtime comrade in arms, saxophone player and stage foil, who died last year.
The show climaxed with "Born in the USA" – the title track of the 1984 album that catapaulted him to superstardom, his anthem "Born to Run", and "Dancing in the Dark" before McCartney walked on.
"I've waited 50 years for this," Springsteen shouted.
Despite being a multi-millionaire, Springsteen has stuck to his image as champion of the underdog as well as master of ceremonies at the most exuberant of rock'n' roll parties. He never fails to give value for money – his show in Madrid on June 17 was the longest he has ever played, clocking in at 3 hours and 48 minutes. And he is still winning new fans.
"I'm a new convert," said Anna, a 25-year-old nurse from High Wycombe, as the crowd streamed away. "My dad was into him so I used to think he was uncool. I came with my dad tonight and now I see what all the fuss is about it."