Papa Johns to offer pizza with 50% off   for their customers this sunday.
Just head over to Papa Johns and enter code: EW50 at checkout.  Valid through Sunday 4/24. This deal is even better than the Papa Johns Coupons they offer! Looks like this is only working in select cities.  Please test the code before you order.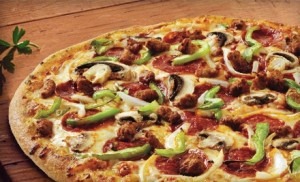 Besides the offer, Papa Johns is also in the process of designing a pizza for royal wedding with the photo of prince williams and Kate Middleton.
Papa John's chief marketing officer Andrew Varga told reporters, "Royal Wedding fever is sweeping the world so we couldn't resist having some fun and creating our very own pizza portrait of Kate and William to celebrate their forthcoming marriage. Like our original crust pizza, our royal portrait is made from 100 percent fresh dough and quality ingredients, so it tastes as good as it looks."
Seems Interesting but who in the world will eat the pizza that has a face on it?