Royal Wedding which  is about to take place next week that is April the 29th has all sets of invitations across the globe.
Thfire has learn't  from the official royal wedding that almost 1400 members of professional sportsperson, Icons, Royal dignitaries are in the list.
Royal Wedding Guest List Revealed
We have British famous David and Victoria Beckham and Sir Elton John. The list also notes that  relatives of William's mother Princess Diana is also invited to sit across the aisle of the royal family along with the middletons.
We also have confirmation that Director Guy Ritchie, singer Joss Stone, Olympic swimmer Ian Thorpe and quirky 'Mr. Bean' star Rowan Atkinson are sure to attend.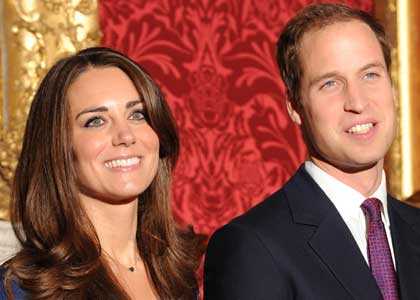 Peruvian-born Mario Testino, the photographer (and Princess Diana favorite) responsible for William and Kate's official engagement photos, will be a guest. So will the chief executive of BAFTA.
As for non-British dignitaries, Prince Albert of Monaco will attend with his fiance, Olympic swimmer Charlene Wittstock . Prince Elizabeth of Yugoslavia (second cousin to Prince Charles, mother of actress Catherine Oxenberg and 1397th in line to the British throne) will be a guest, as will royals from Spain, Greece, Tonga, Swaziland, Denmark, Bahrain, Belgium, Morocco, Norway, Abu Dhabi, The Netherlands, Malaysia and Saudi Arabia, among others.
Although about 1,900 guests have been invited to the couple's wedding ceremony at Westminster Abbey, half of them will sit in the section of the abbey where views of the altar are restricted, and they will have to rely upon video screens to follow the service.
Queen Elizabeth II and other royal family members will sit in the front row across the aisle from Middleton's parents and brother James. They will be closest to the abbey's sanctuary, where William and his bride will stand.
American President Barack Obama Not Invited?
Palace officials said that only crowned heads of states are traditionally invited to royal weddings, and that political leaders who are not from the 54-member Commonwealth of nations, such as President Barack Obama or French President Nicolas Sarkozy, weren't sent invitations. And the official royal wedding list proves that.