Samsung and Visa have unveiled their limited-edition Galaxy S III. This edition will be available for athletes and trialists competing in this summer's Olympic games.
An unlikely partnership between Samsung and Visa. We are sure you are wonder what Visa, your Credit card company has to do with Samsung. Well, it is to make your spend more money.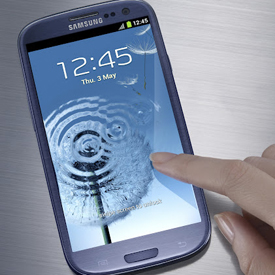 The smartphones will be equipped with Visa's payWave technology, which will allow users to pay for things by waving their Galaxy S III at the register during checkout at participating London retailers.
"Mobile payment services enabled by NFC technology are gaining momentum around the world," DJ Lee, executive vice president of Samsung's mobile communications business, said in a statement. "The Samsung Galaxy S III has been created with our human needs and capabilities in mind, and is the ideal device to showcase the ease and convenience of Visa's mobile payment application at the London 2012 Olympic Games."
Visa is working with Lloyds TSB in the U.K. to enable the NFC payments. To pay, users will select the Visa icon on their Galaxy S III and hold the phone up to a contactless payment terminal. Purchases above £20 require a password, Samsung said, while transactions and account balances can be checked within the app.
Samsung unveiled the Galaxy S III during a London press event earlier this month. The 4.8-inch, Android 4.0-based smartphone will make its debut in Europe on May 29 and a 4G LTE-optimized version will hit the U.S. market during the summer. For more, check out Samsung Galaxy S III vs. HTC One X: Specs Compared and the slideshow below.
Visa's payWave has been around for years. Late last month, Visa said it will launch its V.me digital wallet this fall in the U.K., France, and Spain, with the U.K. launched assisted by payments processor MobilePay.
There have been a number of mobile payment announcements in recent weeks, despite the fact that the technology has been slow to gain support from the average consumer. MasterCard on Monday, for example, announced its digital wallet program, PayPass Wallet, which will let its cardholders and partners securely pay with phones or online with just one click. Earlier today, PayPal and Softbank also teamed up for a digital payment service in Japan.
An April report from the Pew Research Center found that 65 percent of experts think most people will fully adopt mobile payments by 2020, nearly eliminating the need for cash or credit cards.