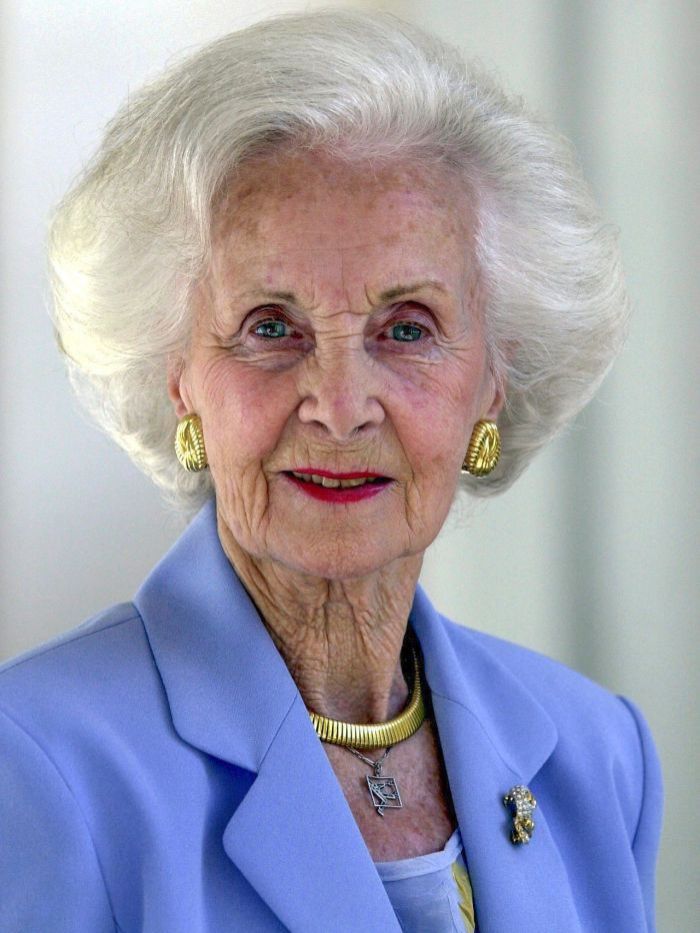 Princess Lilian of Sweden has died. She was 97. Princess Lilian died in her Stockholm home on Sunday. The Royal Place didn't give a cause of death, but she was suffering from Alzheimer's disease for several years.
She met Sweden's Prince Bertil in 1943, but his obligations to the throne and Lilian's status as a divorced commoner prevented them from making their love public. The couple's sacrifices and lifelong dedication to one another gripped the hearts of Swedes.
"If I were to sum up my life, everything has been about my love," the witty, petite princess said of her husband when she turned 80 in 1995. "He's a great man, and I love him."
Born Lilian Davies in Swansea, Wales, on Aug. 30, 1915, she moved to London at 16 to embark on a career as a model and an actress, showcasing hats and gloves in commercials and taking on small roles in movies. She met British actor Ivan Craig, whom she married in 1940.
After World War II broke out, Craig was drafted into the British army while Lilian stayed behind in London, working at a factory making radio sets for the British merchant fleet and serving at a hospital for wounded soldiers.
At the time, Prince Bertil was stationed at the Swedish Embassy in the British capital as a naval attache. The couple first laid eyes on each other in the fancy nightclub Les Ambassadeurs shortly before Lilian's 28th birthday in 1943. Lilian then invited him to a cocktail party in her London apartment. But it wasn't until he fetched her with his car following an air raid in her neighborhood that the romance blossomed, Lilian recalled in her 2000 memoirs, "My Life with Prince Bertil."
"He was so handsome my prince. Especially in uniform. So charming and thoughtful. And so funny. Oh how we laughed together," Lilian wrote.
Lilian was still married at the time, but the situation resolved itself since Craig, too, had met someone else during his years abroad in the army, and the couple divorced on amicable terms.
Upon Bertil's return to Sweden, however, his relationship with a commoner became a delicate issue.
Bertil became a possible heir to the throne when his eldest brother died in a plane crash, leaving behind an infant son – the current King Carl XVI Gustaf. Two other brothers had dropped out of the line of succession by marrying commoners.
Bertil's father, King Gustaf VI Adolf, ordered him to abstain from marrying Lilian, since that would jeopardize the survival of the Bernadotte dynasty.
Instead, the couple let their romance flourish in an unofficial manner, living together in a common-law marriage for decades.
They first lived in their house in Sainte-Maxime in France, but later shared their time between the French village and Stockholm, where Lilian discreetly stayed in the background for years.
Despite the royal reluctance to recognize her officially, Lilian's charm and warm personality soon won the Swedes over, and magazines depicted the happy couple playing golf and riding around on the prince's motorbike. When Prince Bertil had to use a walking frame after an operation, she cheerfully nicknamed it his "Bugatti."
In 1976, some 33 years after they first met, the new king finally gave them the approval they had been waiting for.
On a cold December day the same year, Lilian, or "Lily" as the prince used to call her, became princess of Sweden and duchess of the southern province of Halland in a ceremony at the Drottningholm Palace Chapel just outside Stockholm. The bride had by then turned 61 and the groom was 64.
The couple never had any children.
Prince Bertil died in the couple's residence Villa Solbacken in Stockholm in 1997 after unspecified lung problems.
Lilian took over some of her husband's duties, especially as an award presenter for various sports associations.
Health problems forced her to cut back on some of her royal duties. In 2006 she stopped attending the annual Nobel Prize banquet, and the next year she also stopped taking part in the award ceremony.
In 2010, the palace said Lilian suffered from Alzheimer's disease, preventing her from attending the wedding that summer of Crown Princess Victoria and Daniel Westling.