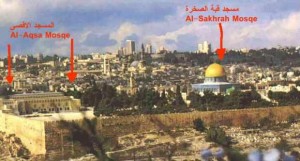 A  ball shaped light was seen over Dome of Rock in Jerusalem. Rumors spread online stating this may actually be an UFO?
I guess, its an hoax. There is nothing called as an UFO. If you describe UFO as an Secret Army weapon, then i am second to you.
If you believe UFO is to describe about Aliens, then i will quote "Lol" .
Anyway, in the video posted below, it seems as though some light was spotted across dome of rock which the video claims as the sacred place for Islam as Prophet Muhammed (PBUH) descended to heaven from dome of Rock.
As far as i am aware, Prophet Muhammed descended to heaven from Al-Aqsa mosque which the Muslim believe to be build-ed by Jacob (pbuh)  and renovated by Suleiman (pbuh). Al-Aqsa mosque is present  next to Dome of Rock.