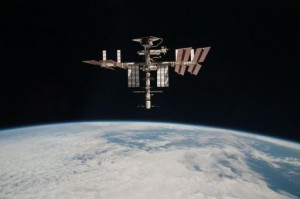 An unmanned Russian freighter launched to the International Space Station (ISS) has been lost.
The Russian space agency has confirmed the Progress M-12M cargo ship was not placed in the correct orbit by its rocket and fell back to Earth.
The vessel was carrying some three tonnes of supplies for the ISS crew.
With the retirement of the US space shuttle, there is now a critical reliance on the robotic freighters to keep the station supplied.
This mission, the 44th such cargo delivery flight to the space station, lifted off from the Baikonur Cosmodrome in Kazakhstan at 13:00 GMT (17:00 Moscow time).
It appears the Soyuz rocket's third and final propulsion stage system shut down early. As a result, the Russian federal space agency (Roskosmos) said, the Progress vessel "was not placed in the correct orbit".
The failure occurred some 320 seconds into the flight. Telemetry to both the rocket and the freighter were lost.
RIA Novosti quoted Alexander Borisov, head of a the Choisky region in Russia's Altai province, as saying pieces of the craft fell in his area some 1,500km northeast of the launch site.
"The explosion was so strong that for 100km glass almost flew out of the windows," he was quoted as saying. Borisov said there were no immediate reports of casualties.
The astronauts have plenty of supplies onboard. Last month's shuttle flight delivered sufficient food stores to maintain the ISS crew for a year.
"We're in a good position logistically to withstand this loss," said Mike Suffredini, the US space agency's (Nasa) ISS manager.
"I can tell you we can go several months without resupply if that becomes necessary."
This is the second Russian rocket failure in a week. On 18 August, a Proton vehicle put a telecommunications satellite in the wrong orbit.
In December, another Proton failure resulted in top Russian space agency officials losing their jobs.
Progress uses a Soyuz-U rocket to get into orbit. The capsule that takes people to the ISS rides on a Soyuz-FG rocket. The upper-stages on the two variants of rocket are very similar.
The ISS partners will therefore want to be sure there are no hardware or software issues in Wednesday's failure that will compromise the next crew launch due on 22 September. If there are concerns, the crew mission will be put on hold.
Source BBC