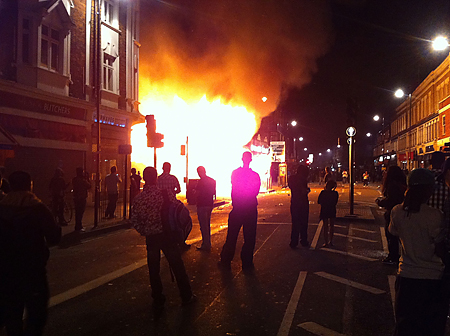 The London Riots that begin on August 6th, 2011 ,  has created a total unrest in the London city.
The protestors have so far burned down many shops and looted many electronic gadgets.
In these times, one may wonder what is the reason behind London Riots?
It all goes down with an killing incident of  Mark Duggan.
Source of the Riots
The local police stopped a minicab that was carrying Mark Duggan as a passenger at about 18:15 BST on 4 August 2011. Duggan was under the suspension of being a possible drug dealer.
On their encounter, it appeared as though a Police officer had been shot by Mark Duggan, which prompted police to shot him at the chest.  Later at 18:41 BST, he was pronounced dead at 18:41 BST.
The investigations was on about the bullet shot at the Police officer. The investigation however proved negative and implied that the bullet found inside the police radio was actually not of  Mr.Duggan.
IPCC Commissioner Rachel Cerfontyne said: "I know this is an incredibly difficult time for Mark Duggan's family, who have made it abundantly clear that they in no way condone the violence that we have all seen on the streets of London and elsewhere over the past three nights. I am committed to ensuring they are provided with answers from the IPCC about the investigation into Mark's death as soon as we have them, and I acknowledge their frustration that this can be a lengthy process.

"I know that much of this information has been reported in the media already, alongside much inaccurate speculation. Any concerns expressed by the wider public about a perceived lack of information from the IPCC should be considered in the context that I am only willing to share information once I have had it independently verified and once the people who are directly involved in this case – including Mr Duggan's family and community leaders – have been fully informed.

"I also have a responsibility to balance the need to provide information, with the need to avoid adversely affecting other judicial and coronial processes. This means that it would not be appropriate for me to put all the information we receive into the public domain as soon as we receive it. I assure you that our findings will be made public as soon as we can legally and legitimately do so

"I will continue to oversee the IPCC investigation and IPCC family liaison managers continue to be on hand to support Mr Duggan's family while our investigators get on with establishing the facts of this case."
As reported by IPCC website, according to the initial investigation by Forensic Science Service (FSS),
• The bullet lodged in the MPS radio is a "jacketed round". This is a police issue bullet and, whilst it is still subject to DNA analysis, it is consistent with having been fired from an MPS Heckler and Koch MP5.
Now, this makes the situation worse. The bullet that was shot in the police radio belongs to an another Police officer bullet, as initial reports given by FSS.
No matter what, they police should have shot Mark Dugann in the leg and not at the chest.
He is now dead for the crime which he never did.
The agony among the local and family members made them to go for a march on later August 6th, 2011 which started the riots that is killing London herself.
Whats your take on the whole story? Do you feel the protestors have done a right thing by taking up arms against police?
Share with us your views via comments below.