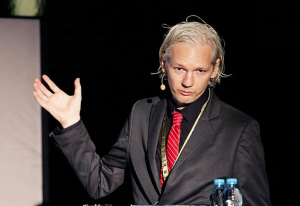 The founder of the whistle-blowing website Wikileaks, Julian Assange, has told a court he will fight extradition to Sweden.
Bail was refused and the Australian, who denies se**ally assaulted two women in Sweden, was remanded in custody pending a full hearing next week.
Mr Assange told a judge at City of Westminster Magistrates' Court he would contest extradition.
A Wikileaks spokesman said Mr Assange's arrest was an attack on media freedom.
Kristinn Hrafnsson said it would not stop release of more secret files and told Reuters on Tuesday: "Wikileaks is operational. We are continuing on the same track as laid out before.
"Any development with regards to Julian Assange will not change the plans we have with regards to the releases today and in the coming days."
Secret locations
He said Wikileaks was being operated by a group in London and other secret locations.
Five people, including journalist John Pilger and socialite Jemima Khan, stood up in court offering to put up sureties but bail was refused and he was remanded in custody until 14 December.
Scotland Yard said Mr Assange was arrested by appointment at a London police station at 0930 GMT.
Mr Assange is accused by the Swedish authorities of one count of rape, one of unlawful coercion and two counts of sexual molestation, alleged to have been committed in August 2010.
The allegations involve two women, Miss A and Miss W.
If the district judge rules the arrest warrant is legally correct, he could be extradited to Sweden.
But the process could take months, especially now that he has indicated he is objecting to extradition.
Police contacted his lawyer, Mark Stephens, on Monday night after receiving a European arrest warrant from the Swedish authorities.
An earlier warrant, issued last month, had not been filled in correctly.
Mr Stephens said his client was keen to learn more about the allegations and anxious to clear his name.
He said: "It's about time we got to the end of the day and we got some truth, justice and rule of law.
"Julian Assange has been the one in hot pursuit to vindicate himself to clear his good name."
Mr Stephens said Mr Assange had been trying to meet the Swedish prosecutor to find out the details about the allegations he faces.
Mr Assange has come in for criticism in the last week for the revelations made on Wikileaks.