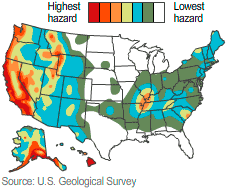 An Earthquake measuring 5.8 has hit the eastern parts of US. The tremors were felt all the way from Virginia to New York to Toronto, Canada.
The quake that lasted for few Seconds was centered near Louisa, Va., which is northwest of Richmond and south of Washington where the quake was felt very high.
The Building started shaking amid the Sounds of Evacuate! Evacuate! in the streets of New York and Pentagon.
There is no report yet on any damage to Public and Property. And no reports of any damage to the subway stations either.
In Charleston, W.Va., hundreds of workers left the state Capitol building and employees at other downtown office buildings were asked to leave temporarily.
"The whole building shook," said Jennifer Bundy, a spokeswoman for the state Supreme Court. "You could feel two different shakes. Everybody just kind of came out on their own."
Employees and Visitors were asked to leave the corridor of companies and malls temporarily.
Also, Flight take off was put on hold in the Reagan National Airport and similar actions was taken in the other Airports from New York and Washington
Were you located in the middle, when Earthquake struck you. What were your reactions? Share with us via Comments below.