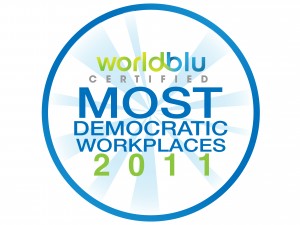 WorldBlu certifies HCL and  3i infotech as the world's most democratic workplace along with 50 other companies worldwide.
WorldBlu, a U.S. based company, specializing in organizational democracy and freedom-centered leadership, has announced their fifth annual WorldBlu list of most democratic workplaces 2011. They made the announcement as the part of the fifth annual "Democracy in the Workplace Day" for organizations from across the U.S., Canada, Mexico, the U.K, India, the Netherlands, Denmark, Haiti and Malaysia.
The list included industries like aerospace, technology, manufacturing, healthcare, telecommunications, retail, services and energy.
The company, HCL Technologies, a global IT services company, was selected to the list after completing an extensive employee survey, which was sent to a random sample of its worldwide employee base. HCL finds its asset is its 79,000 employees that deliver value and directly interface with HCL's customer.
'Creating a democratic workplace within HCL has enabled the company to achieve this goal,' HCL mentioned. HCL's organizational practices were evaluated on ten democratic principles including transparency, integrity, accountability and dialogue and listening.
V. Srinivasan, Managing Director & Global CEO, 3i Infotech said that their biggest asset is the employees. And the culture where every employee is empowered to contribute ideas towards enhancing operational efficiencies and employee motivation makes them feel unique. These ultimately lead to better organizational effectiveness and customer satisfaction.
For the list of all the companies identified by WorldBlu List, Click Here