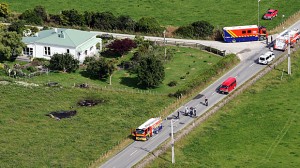 A hot air balloon carrying 11 people crashed into a farm in New Zealand killing all the people in it. The crash considered as the deadlier to happen in last 50 years of NZ history leaves police and locals in sadness.
The crash happened after the hot air balloon hit the electric wires and caught up fire, as witnessed by locals who report of seeing 32-foot (10-meter) high flames rising from the basket of the dark blue and maroon striped balloon before it plummeted to the farmland below.
Superintendent Mike Rusbatch, a police district commander in Wellington, said it appeared the balloon's basket struck power lines that set a fire on board.
The pilot and five couples from the Wellington area, about 95 miles (150 kilometers) south of the crash site, were killed. Some of the bodies were badly burned, said Superintendent Rusbatch.
Two of those killed jumped out of the basket in desperation before the fiery balloon plummeted to farmland with a loud bang as it hit the ground.
Bevan Lambeth said the basket was on fire "and the power lines were holding the basket down, but it was still about 50 meters (165 feet) in the air. Then the whole basket started to go up in flames," as the balloon broke clear of the electric lines.
"I saw … (it) then go straight up in the air and the flames just engulfed the whole balloon and it crashed to the ground. When it came down it came down really quickly," he told TVOne News.
The burning balloon was just above the trees when David McKinlay saw it as he watered his garden.
"It looked like he (the pilot) tried to raise it a bit higher … all of a sudden there was just 10 meters of flames," he said.
The balloon rose to 500 feet (150 meters) before dropping quickly, and turned to "just a sheer flame as it hit the ground" with a big bang, McKinlay said.
New Zealand Transport Minister Gerry Brownlee expressed condolences to the bereaved families on behalf of the government.
"We are deeply sorry to learn of this tragic accident and our hearts go out to those who are now mourning the loss of life," Brownlee said.
New Zealand Transport Accident Investigation Commission manager Peter Northcote said the commission had opened an inquiry into the crash, and investigators were on the scene.